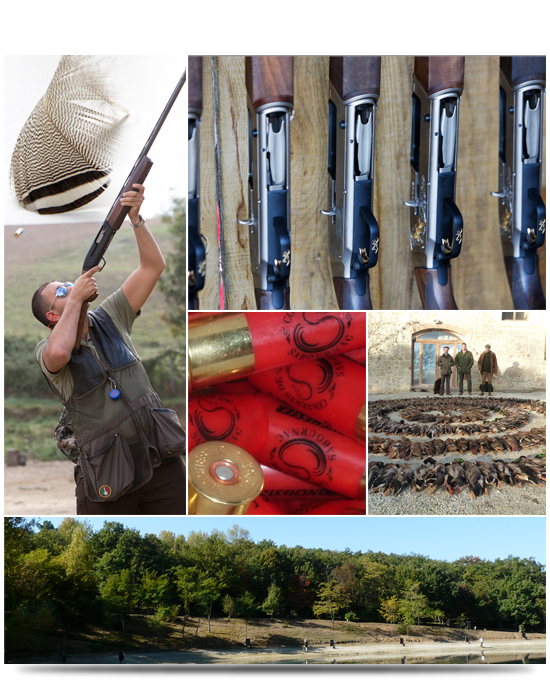 Unique in Europe, Sabournac is a private estate which has been organizing mallard duck hunting france for 25 years in the tradition of the great English and Spanish driven shoots. This hunt both surprises and appeals to hunters who like to shoot several hundred cartridges at high flying mallards. These birds fly at surprising heights, which means that only tightly choked guns are used.
Sabournac offers only high quality, exclusive hunting organized and customized to meet your specific demands. The hunting estate is open from September 1 to January 31 and can be booked for a private hunting trip of 2 to 8 hunters.
As a « Browning Partner Lodges », several guns such as the A5, the Maxus, the Cynergy and the B525, are available on the estate. This free service provides an opportunity to shoot with top-quality shotguns, as well as to avoid the hassle of travelling by air with guns. Winchester cartridges are available on site for 12, 16 and 20 bore guns.
The estate is 60 km Est from « Toulouse International Airport » with direct flights from most European capitals and 25 km from « Castres-Mazamet airport » where all private planes can land.
Accomodation :
During your stay you have choice of 3 differents range of hotel:
Hotel Cap de Castel 125 euros per night per person with breakfast. (5 minutes to Sabournac) – www.capdecastel.com –
Hotel La Bombardiere 65 euros per night per person with breakfast. (15 minutes to Sabournac) – www.hotel-restaurant-la-bombardiere.fr –
Rates :
200 ducks minimum per day.
Duck shot: 20€ each.
Cartridges: 10€ (Box 25).
Airport transfer to hotel: 100€ (1 way / max 8 persons)
Airport transfer to castle: 150€ (1 way / max 8 persons)
Packages :
1 hunting day with ducks, license, gun, lunch and drinks at the shoot:
40 ducks per hunter:   800€  /   Minimum 5 hunters
50 ducks per hunter:   1000€  /   Minimum 4 hunters
75 ducks per hunter:   1500€  /   Minimum 3 hunters
100 ducks per hunter: 2000€  /   Minimum 2 hunters
2 hunting day with ducks, license, gun, lunch and drinks at the shoot:
80 ducks per hunter:   1600€  /   Minimum 5 hunters
100 ducks per hunter: 2000€  /   Minimum 4 hunters
150 ducks per hunter: 3000€  /   Minimum 3 hunters
200 ducks per hunter: 4000€  /   Minimum 2 hunter